I have worked in software delivery for over 25 years now and in that time I don't recall ever hearing of a project being cancelled due to lack of efficiency. By contrast I have seen numerous project cancelled because of misguided decisions in the name of efficiency. The most common is where team decide to build out infrastructure or data layers or business logic that they "know they will need later" and it is more efficient to do them now. The team works really hard but the client sees little or no progress and cancels the project. This sadly is something I have seen far too often.
This thought process is anti-Lean and it is anti-Agile but still it comes up daily. Teams anticipate future work and prepare for it, they over engineer stories or add elements that were not requested, "while I was here I added somethings we will need later", all the time giving the impression to the customer that progress is slow. The team themselves feel they working hard and are adding value by being efficient. This lack of alignment between team activity and customer priorities and expectations almost always results in customer disappointment and teams feeling underappreciated. Since it is the customer that pays the bills misalignment with them is destructive to a project. That perceived future efficiency is never realized because the project doesn't last long enough to benefit from it.
So why is it that we see efficiency as such a powerful virtue despite evidence to the contrary?
The sooner begun, the sooner done

proverb
A lot of it stems from misguided definitions of efficiency. From an early age many of us are taught that the sooner something is started the sooner it is finished. Or if you don't start it, it will never get finished. We have a bulk buying culture and a bulk buy mentality. The belief that over time we will save money or make efficiency gains. What we don't think about is opportunity cost or what the trade offs are for our actions. These costs in general far out-weigh any efficiency gains.
Cashflow is king
82% of small business closures are due to cashflow rather than profitability. It is not that they are not profitable but that they don't have the cash available immediately often because it is tied up in unsold inventory or materials waiting to be processed. This is essentially the same manifestation of what is happening in software. We are tying up our time and energy in future potential and we find the project gets cancelled before we get to profit from our efforts. Value to customers is like cash is to businesses. It is no good telling a customer we are accumulating value for later when they need and expect the value now.
So the claim that the best way to get something done is to begin is only half right. The best way to get something done is to finish what you started, before starting something else. If we pay more attention to starting than we do to finishing we end up with many started jobs and very few finished jobs. We need to reverse our sense of efficiency to see value in finishing jobs and efficiency in completing work sooner rather than starting more jobs or extending them.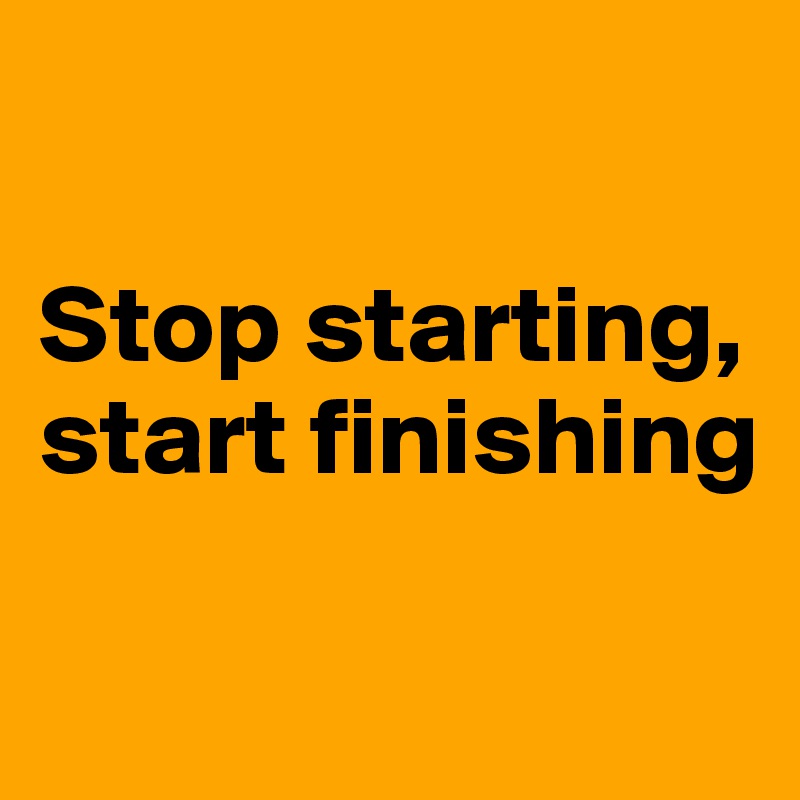 Stop starting, Start finishing
Whether it be software or manufacturing the efficiency we should be striving for is reducing the number of activities in progress. Be efficient in how many we complete, not how many we start. Starting on something that will not be finished until much later will more often than not create additional work in maintenance and confusion, not to mention the more valuable work that could have been done while you were being 'efficient.'
Let's reevaluate our understanding of efficiency and let's stop starting and start finishing.